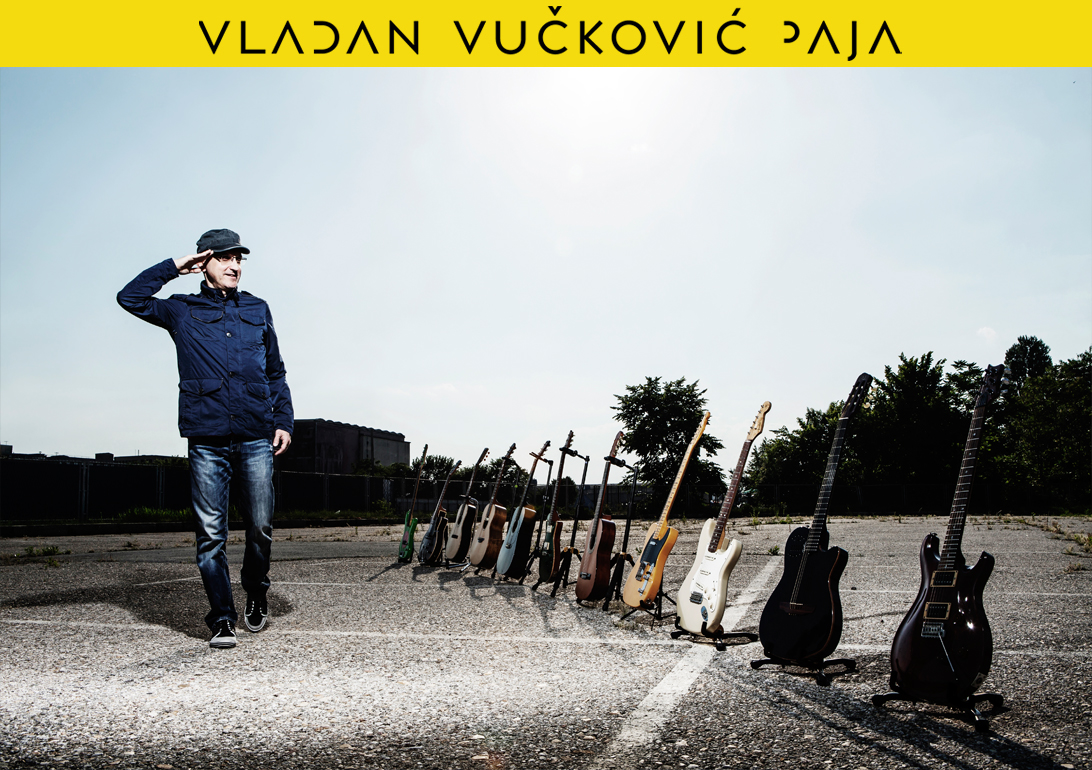 Guitarist, multi-instrumentalist, composer, arranger and concert performer.
ORIGINAL MUSIC
He creates a guitar instrumental music in a wide range of genres: world music, ethno-fusion, fusion, classical music, jazz. His art can be defined as "universal music".
Freedom of expression in his music belongs from virtouso played guitars, keyboards, bass guitar, percussions. In distinctive forms of contemporary music he brings its own creative musical themes, clearly defined, richly arranged and integrated into the complex chord progressions.
When he processing traditional and classical music, he makes eclectic links to variety of music contents. He interpolates his musical sequences in traditional music parts and creates a harmonious and unbroken series of new music.
COOPERATION WITH OTHER MUSICIANS
As an instrumental player he cooperated with the most famous musicians in Serbia:
Kornelije Kovač, Rade Radivojević, Zdravko Čolić, Kiki Lesendrić, Željko Joksimović, Dragoljub Ðuricić, Sasa Vasić…
CONCERTS
Vladan Vučković Paja promotes his compositions on live performances since 2002 all around famous theaters in Serbia, as well as famous GUITAR ART FESTIVAL in Belgrade which became one of the most popular guitar festivals in Europe. He was performer on famous ZAJEČAR GUITAR FESTIVAL and JAZZ FEST VALJEVO with his supporting Spiritus Movens Band. Also, he performed his music in numerous popular live TV shows on Serbian national television (RTS).
As a permanent member of Zdravko Čolić supporting band and long-standing memeber of Kiki Lesendrić supporting band PILOTI he performed concerts in famous Belgrade's stadium Marakana, Arena, Ušće and also at "Olympia" in Paris …
He is an associate member of the Belgrade Philharmonic Orchestra. Also, he is an associate member of the Novosadski Big Band.
He performed in front of hundreds and hundreds of thousands spectators on more than 500 concerts in Serbia, in region, and numerous tours over the world (USA, Canada, Australia, Europe, Russia, United Arabian Emirates).
PROFESSIONAL REFERENCES
● He has published nine albums of original instrumental music
● He is incorporated in "EX-YU ROCK ENCYCLOPEDIA" as a guitar player and composer of instrumental music
● By the World Music Association of Serbia he has been included in the "Serbian World Music All Stars Orchestra"
● At the invitation of the organizers he held a Master Class at the Guitar Art Festival in Belgrade
● The author of music for the film "Luck for Lucky" for the EBU (European Broadcasting Union) produced by RTS
● The author of music for the documentary film "With Eyes Wide Open"
MUSIC ASSOCIATION MEMBERSHIP
● Member of the Serbian Composers Association
● Member of the Serbian Jazz, Popular and Rock Musicians Association (obtained status of an Artist)
● Member of Serbian Instrumental-music Composers Association "Instrumental forces"
PRIZES AND AWARDS
● Special award from Serbian jazz, popular and rock musicians association for great contribution to development of Serbian music
● Gran Prix of international TV festival in Albena (Bulgaria) for TV show "AT THE EAST OF THE WEST", recorded by national Serbian television (RTS) as a visual support for his music
● Official competition selection in category "Music" on International TV festival in Luzern "ROSE D OR" (Golden Rose) for TV shows recorded by national Serbian television (RTS) for his albums "AT THE EAST OF THE WEST" and "THE DIARY OF A LONG SAIL"
DISCOGRAPHY
During his years of musical career he published nine editions of original instrumental music:
1. ON THE WAY TO THE SUN (CD) 2000 / MTS
2. AT THE EAST OF THE WEST (CD) 2003 / PGP RTS
3. THE DIARY OF THE LONG SAIL (CD) 2005 / PGP RTS
4. GUITART TRILOGY (DVD) 2007 / PGP RTS
5. ROOT AND THREE PARTITURES (CD) 2008 / PGP RTS
6. JAZZiJA (CD) 2012 / DALASS RECORDS
7. BOHEMIAN RAPSODIES (CD) 2014 / WMAS RECORDS
8. ENFORMEL (CD) 2016 / MULTIMEDIA MUSIC
9. MY FAMILY SONGS (CD) 2017 / MULTIMEDIA MUSIC
All albums have been recorded in the LOUIS MUSIC STUDIO, producer and sound engineer – Perica Kaluđerović.